The Norman Watt Motorcycles Adult Grasstrack Championship will move to the familiar venue at McCormick's Farm, Glenoe for the final round of the 2012 series this Wednesday evening. (4th July)
The circuit itself, which overlooks Larne town, has been re-designed for this year's events by the Carrick Club with help from the NI Classic Scrambles club. While still in keeping with the previous year's fast and flowing design, the new layout is built in a smaller area but makes more use of the contours of the land. Spectator areas have also been increased in size giving the spectators more room to move about and see more of the action on track.
2011 Champion, Richard Bird (Suitor Brothers/Watt KTM) has been a man on a mission in the Expert Class this year, having dropped just three points over six races giving him a comfortable 40 point lead at the helm. Andrew McLarnin currently occupies that second position behind Bird, with Larne's Niall McAuley right on his tail four points back in third. McLarnin will not be present at Wednesday evening's event leaving the door wide open for Larne's McAuley to move up the championship but this may prove more difficult than it seems with the likes of Drew Goudy and Tommy Merton making a return to the grasstrack scene on at McCormick's Farm.
Paul Atkinson is another rider that has been on form this year and he heads up the Clubman MX1 standings. Atkinson holds a thirty point lead over Alan Saunders from Newtownabbey with Iain Dobie still keeping his Belfast Knee Clinic KTM in the hunt in that final podium position.
Race wins has been evenly spread across the top three in the Clubman MX2 class to date so we can expect the third round to be no different. Ian Dunlop has one hand on the trophy as he leads the way after Round 2 so Don Murray and Derek White will know they have just three races left to mount a late challenge to pry it from Dunlop's hands, a tough task so expect some hard racing in this one!
Stephen McBride moved to the top of the Veterans Championship last time out with a perfect night, three wins from three, leaving him with a twelve point advantage over Michael McBride. Looking back at 2011, Stephen scored one more point than Michael in the final round at Gleno so if history is anything to go by Stephen, don't be surprised if he leaves with the Veterans crown. Rumour has it that Richard Watt may be making his comeback after a knee injury which could throw a spanner in the works at the top also.
Richard Toye is on course to wrap up his third Watt Motorcycles Quad Grasstrack Championship, his second in consecutive years. A DNF at the last round has all but put an end to early contender Geoff Ingram's challenge for glory in the four wheeled class. Ingram has now been left to claw back a huge twenty seven point gap at McCormick's Farm to catch the man from Coleraine, a feat that seems impossible if you look at the consistency of Richard over the season, but then again anything is possible in racing.
Wednesday (4th July) will see another action packed meeting run by the Carrickfergus Club with a fifteen race programme squeezed into three evening hours, take place at the circuit situated on the Ballylesson Rd, Glenoe. Practice is scheduled to begin at 6pm with racing starting at 6.30pm. Adult spectator admission is priced at just £5 with children under 16 years of age being admitted free. Free parking will be available in the venue and spectators should be made aware that parking on the roadside is prohibited. LJ's Diner will also be on hand to provide hot food for those who want to grab a bite to eat while watching the racing.
Entries for the Youth grasstrack on Tuesday 3rd and the Adult grasstrack on Wednesday 4th are still available in the motocross shops and also on the club website. Entries will also be available on the night too but only while there are spaces left in the classes as no non-qualifier races will be scheduled.
For more information on the upcoming events you can visit the Carrickfergus Club website at www.carrickfergusmcc.co.uk, or alternatively you can find them at facebook.com/carrickfergusmcc or on Twitter, @carrickmcc.
Entry List:
Provisional+Entry+List+-+4th+July
Championship Standings
2012_Watt_Motorcycles_Adult_Grasstrack_Championship_Standings_%28After_Round_2_of_3%29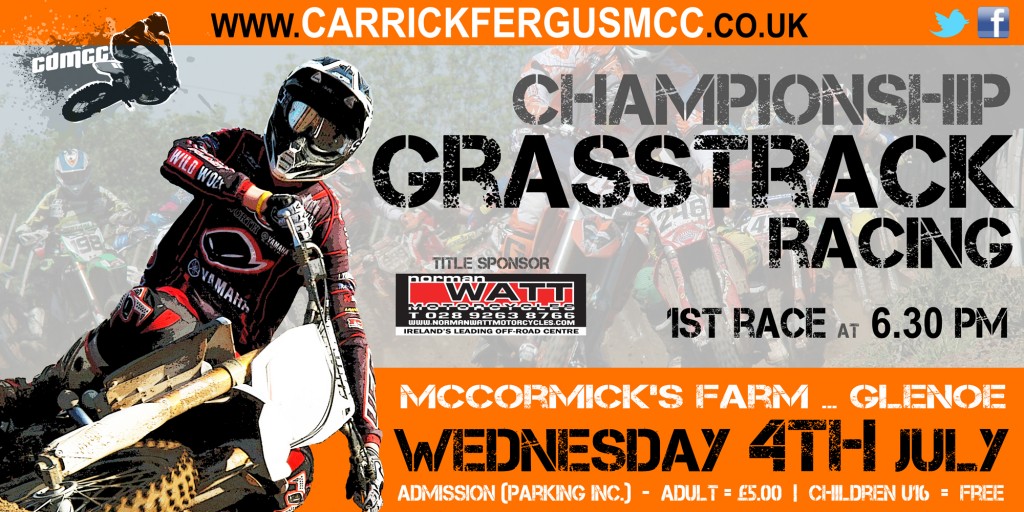 Words and Images by – Ryan Denney