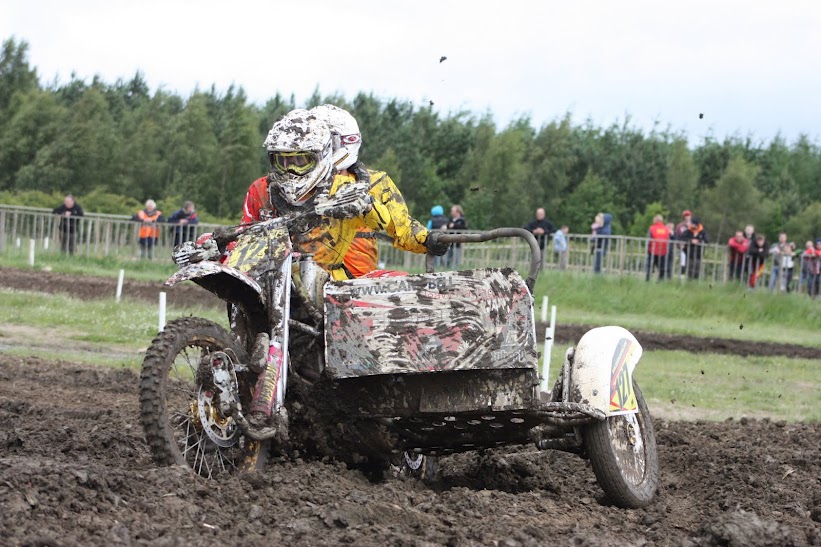 Over the weekend of 30th June-1st July, North Armagh Motorcycle and Car Club (Off Road Section) members Lisburn lads, Neil Campbell and Ross Graham competed in the 4th Round of the Maxxis British Sidecarcross Championship at Wooley Grange,in the North East of England  where they came home a fantastic sixth overall on the day.
Against a World Class field including Grand Prix regulars such as the Millard Brothers, the France Brothers, Stuart Brown and others, the two Lisburn men fought for a hard earned 6th overall with a 6th, 7th and 8th places over the three motos, an incredible result for the reigning Ulster Champions who are currently unbeaten in the 2012 Ulster Championships.
The track conditions were heavy in the morning, and even after work on the track by club members, although drying, the track remained heavily rutted all day, making the result even more impressive as this was a day where experience counted, and the two locals have only a year and a half competition behind them.
Despite this being their only outing so far in the Maxxis British Championship, the boys are now 19th in the Championship with three rounds left to run.
This is a tremendous result for the sport in Ulster and Ireland, as the MRA only re introduced a Championship for the chairs in 2011 after a break of over a decade, and hopefully this will boost interest in this exciting, and unique discipline in of motorcycle sport.
Neil & Ross are championing the case for Sidecarcross and demonstrating that young people have a chance against much more experienced opposition.
Their dedication and enthusiasm are a credit to the Club, their sport, and motorcycling in Ulster, congratulations go to them from all Club members, and best of luck for future rounds!
The Club are proud to have the lads amongst their membership, and look forward to seeing them in action at their home circuit of Tandragee on 18th August 2012 when the Club host their round of the Ulster Sidecarcross/Quadcross/Under21 & Veteran Championships.
Malcolm Beattie
NAMC&CC ORS Press Officer