Without doubt the Monster Energy FIM Motocross of Nations is the biggest annual event on the motocross calendar and as the 64th edition of the event draws ever nearer, Team Ireland will again be taking their place on the start line. Flying the flag on the 18th September in St Jean d'Angely, France will be our trio of riders: Martin Barr, Stuart Edmonds and Richard Bird. As part of the countdown towards the big day, Enduro.ie caught up with each rider to talk pride of country and pre race nerves. To get the ball rolling first up is Martin Barr, moments after destroying the opposition at the recent Red Bull Pro Nationals in Desertmartin…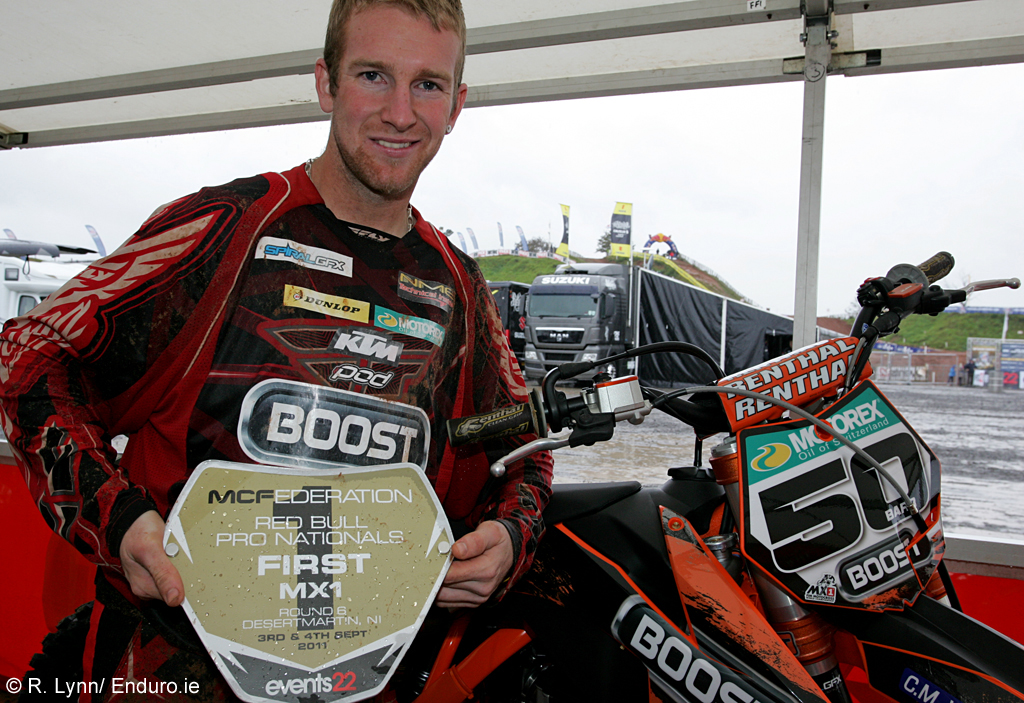 Enduro.ie: Congratulations on your results today! You very much controlled the racing from the front putting in a dominant performance in both the wet and dry.
Barr: "Thanks! Today couldn't have gone any better for me; everything went the way that I hoped it would. When we were here earlier in the year for the Maxxis British Championship, I lead both races but I sort of threw it away. I felt I should have won them, but I didn't and although I wasn't happy with the mistakes I made I learnt a lot from that weekend. Today I set the fastest time in qualification and each time out I grabbed the holeshot. I was able to put the hammer down to pull away. I kept an eye on Brad Anderson behind me and tried to control my pace based on his. He came back at me in the second moto but I had enough left to pull away again."
Beating the British champion must give you a good boost of confidence coming into the remainder of the season, especially in front of your home crowd?
"Absolutely. Brad's the guy to beat, he's on a roll lately winning everything and I want to challenge him; try to get inside his head and put a stop to his win streaks. Winning at home was fantastic. The track was perfect and having my home crowd support hanging over the fence cheering me on even in the rain is such a buzz to keep pushing. It was brilliant!"
The Motocross of Nations is rolling around now in a couple of weeks and again you've made the cut for Team Ireland. Getting the phone call to say your picked to race must be a great feeling?
"I've been picked now to ride for Team Ireland for the last six years. It's a real honour to be picked and be able to ride for your country. It is the biggest event of the year and I feel we've a good chance. We've got a strong team; different than before which should help us for the better. Hopefully we can qualify directly through the A-final on Saturday rather than facing the B-Final Sunday morning."
It seems to be a bit of a ritual now for Ireland to be in the dreaded B-Final but if you can qualify direct it should make a massive difference to our result?
"If we can make it through it'll help cut a lot of the pressure on us. We'll be able to relax on the Saturday evening and focus on preparing for the main event. The B-Final is tough, the nerves are intense as you know you've got to win. Plus if you do qualify then the MX2 rider is faced with three motos on the trot. If we can make it through I know we have a better shot at a good result."
With your number of starts for Team Ireland combined with your results to date, you could be regarded as the number one rider?
"Yeah, in a way I could be viewed as the team leader which is a nice personal achievement for myself but this race is a team effort so it takes everyone to make it count. Stuart Edmonds has got experience at it and with both of us we'll be able to look after Richard Bird and make sure he's ok. I've a lot of faith in him and I know he'll rise to the occasion. It's nice to be viewed as team leader but I just want to do my job and give it 100%."
Given that the Motocross of Nations is the biggest race on the calendar, can it bring a lot of pressure to perform or is it something you look forward to?
"A bit of both really. With everyone coming from home to support the team, you want to do well and do everyone proud. That can be pressure but it's a race I look forward to because I want to ride well for the team and all our support. It's the 'Olympics of motocross'; a chance to compete against the best riders in the world so I'm looking forward to get stuck into it!"
How important is the Irish support going to be in France?
"Immensely important. We need those leprechauns back! It makes you smile just to see the support the fans put into it so we need everyone lining the fences and cheering us on. It makes a difference!"
The race also gives you a chance to perform on the world stage and show everyone what your capable of.
"Definitely, it's a great opportunity to do that. With Brad picked to race for Great Britain, it has given me an idea of where I'm at and what I should be capable of. That'll help my confidence as he rode really well there last year. I feel in good form at the minute and want to keep this momentum rolling and finish things on a high!"
… So that's Martin ready for action, tune back to find out about Stuart Edmonds and Richard Bird's thoughts on getting started.