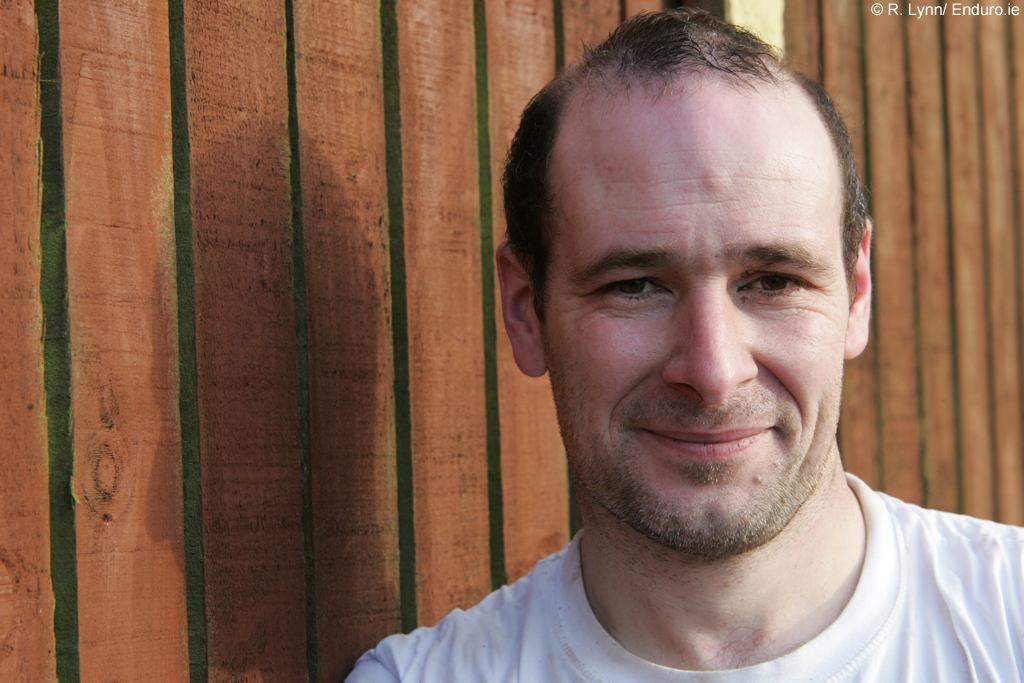 Defending Irish Enduro Champion Paul McLoughlin makes a winning start to round one of the 2012 Irish Enduro Championship in Glendalough…
Sunday May 13th saw the first round of the Irish Enduro Championship running at Glendalough. Despite a week of inclement weather, race day conditions were perfect. Clerk of the course Allan Leckie had marked out a lap of about 55 kilometres with expert and senior riders having 3 laps to do, clubman and sportsman riders with 2 loops to complete.For the most part fast and flowing, the lap was a fabulous mix of wide open forestry track, timber forwarder tracks, some woodland trails which were sublime to ride and a long pull up a stoney hill which seemed to go on forever.
The extreme test, which unusually enough was right at the start of the lap was a different story however, with few riders having a clean run through.  It started with some tight and slippery woodland trail and the first opportunity to drop your bike. This led to a ditch, which got more difficult as many riders in the over 100 strong field got stuck and dug an even deeper hole trying to get out. If it wasn't for Pat Kinlan's bridge of sticks on the second lap, this ditch would have been as far as a lot of riders would have got.
Once clear of the ditch you weren't out of the woods yet – an uphill section littered with old timber cuttings, there was no obvious choice of line and it was a case of pointing your bike in a general uphill direction and trying to hang on. Exiting the woods with chest heaving, there was a small stream to cross before opening up the bike for a flat out blast up a forestry road and a chance to catch your breath before the next woods section.  Turn left and into the trees for the second time, as the day wore on a line developed and this technical section was tough but fair to ride and then it was into the final part of the test, open the throttle down a grassy run before braking hard and into the slop.  Hang off  the back of the bike and keeping momentum up and hope for the best, the test end sign was rarely such a welcome sight.
Quickest of the experts defending Irish Enduro champion Paul McLoughlin put in 3 fast runs through the test to finish over a minute clear of Danny Connolly with Pat Cody a further 30 seconds behind Danny. Always quick when conditions are tough, Seamus Muldoon had a good first run but got stuck and lost a minute and a half on his second run to put him out of contention. Dave McNulty opened the course and set a good pace through the test, but lost almost 10 minutes on his second lap.  Young Italian rider Andrea Bassi broke his chain in the middle of the first test and retired on the second lap.
In the senior class, there were 2 northern riders in the top 3, with James Farrell making it 2 in a row to take the honours by an incredible 3 minutes from Liam O'Brien who rode 3 steady runs through the test to finish 20 seconds in front of Gordy Roberts.  It was a rare retirement for Jonny Mercier as he lost over 13 minutes on his second lap.
In the clubman class, Richard Murphy made it 2 wins in a row as he gritted his teeth and dug deep after losing 20 seconds getting the big 450 out of that ditch on the first lap.  David McMahon was 1/2 a minute behind in 2nd place with Colm McHugh riding well all day but getting stuck in the test on his second lap to leave him a further 1/2 minute behind McMahon. Credit must go to the rest of the large clubman field, with only 2 retirements despite the tough conditions.
Kevin McDonnell took the honours in sportsman by a margin of over 2 1/2 minutes with Anthony Kerins and John Walsh having a good battle to finish 2 seconds apart to round out the podium.
Thanks to Allan Leckie and all the volunteers who made this event possible.  Thanks also to the time keepers and particularly Deborah McCann for getting the results out so promptly.
Report: Richard Murphy/ www.torcireland.ie
Results:
Expert: 1. Paul McLoughlin; 2. Dan Connolly; 3. Pat Cody; 4. Seamus Muldoon; 5. Niall Stapleton…
Detailed Results:
Glendalough 2012 Provisional Results