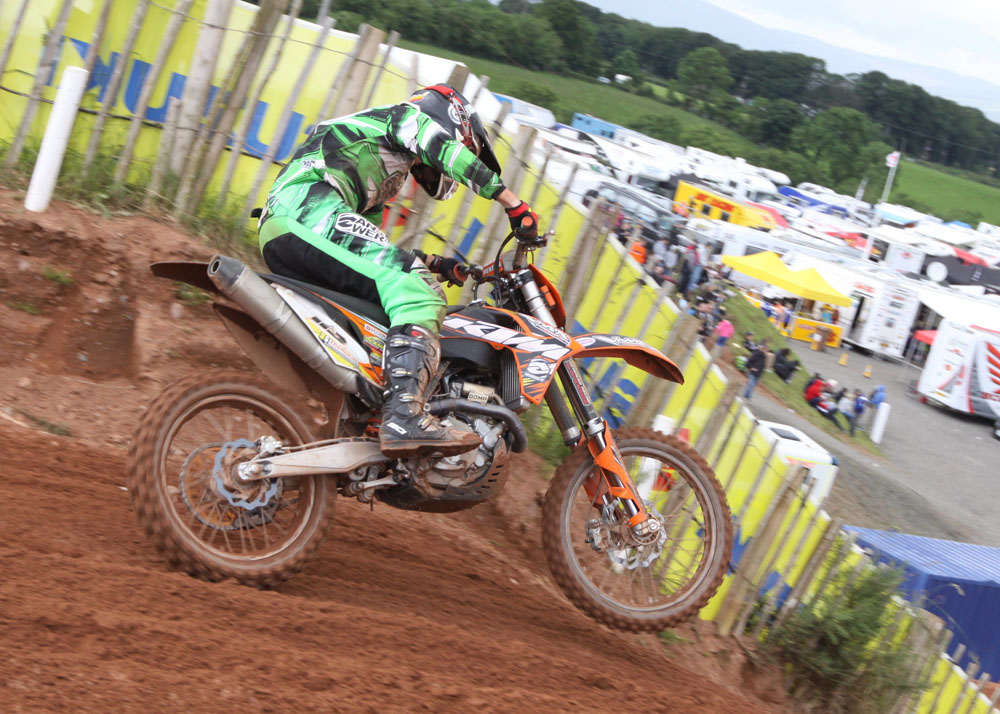 Round 5 of the Maxxis British championship made its trip across the Irish sea to land at Porters Pit Desertmartin on Sunday last. As always the track was groomed with tlc and despite all the rain that has fell, in was in top class condition.
Team VMX only fielded 1 of their riders in the form of #113 Michael Mahon, as #50 Stephen Mullally had got injured on the previous Sunday in Dundalk.
Mahon who is improving week by week was up-beat about his chances of getting some championship points against some of top Irish, British and European riders.
Qualifying was never going to go well as Michael struggled with suspension set-up and didn't feel comfortable or confident on his KTM 450.
He gave it his all and was lucky to come away with 24th.
Scott from Planet Advanced Suspension waved his magic wand after qualifying and made some major changes which was to improve the bike drastically.
In the first race he got away well and on lap 1, got pitboard info the to say he was 23rd so head down and a few scary passes and ended up 18th.
Race 2, after a bad start made some great passes and grasped 15th position then made a silly mistake and dropping the bike but only lost 1 place and ended up16th.
Race 3, went out well chuffed with his 16th place and set his sights on top 15, worked his way up to 13th and put some solid laps in and in the process got cross rutted over a table top and had a spill damaging the bars and the clutch master cylinder but nursed her home in 21st.
MICHAEL "Overall I am happy enough with the way the day went and I know I am improving as time goes on and any day I pick up 8 points in a British Championship isn't a bad day. I would like to thank any-one that has helped me out, including Scott ( Planet Advanced Suspension ) and I would also like to thank Westpark fitness for their help too"
Words: BigNoel PR
Image: McKinstry Pics